Dog Heat Mats

Electrically Heated Pet Mat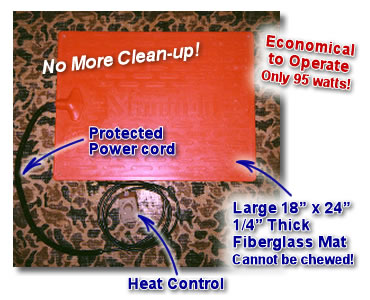 Do away with heat lamps and lightbulbs.

No more cedar chips or straw to clean up.

Comfortable uniform warmth
This rugged mat is built by Osborne Industries and is perfect for dog houses, garages, sheds, etc. So, take care of your #1 hunting buddy and order today!
Dog Heat Mat
$133
plus S&H
Secure Shopping
Dog Kennel
Accessories
Closing Panels


Guillotine Closure


Easy to install
— Drill 1" hole in the wall of the dog house, pull cord through hole.
— Secure mat to floor with four screws.
— Plug heat mat to control and the control to an electric outlet.
— Your done! It's that simple.
See The Dog Door In Action!
Adults & Puppies
Videos and Articles on Kennel Design and Dog Training.
Pet Door Installation Instructions
with Training Tips.
News, Features and More! Come Visit.
Google Search
Please Google "dog door" or "pet door" and compare price, quality, & service!
Thank You, Lance & Marcie

Better Dog Doors & Pet Doors


1-800-789-0203

• 701-354-7700 • Fax 701-354-0117

13835 34th St NW • Bismarck, ND 58503

International 701-354-7700

Copyright © 1992-2018 Gun Dog House Door® Inc.