Big Dog Door™
by Gun Dog House Door® Co.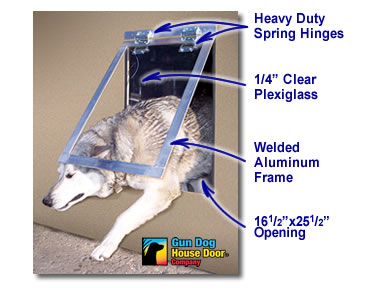 Chew proof
Indestructible
Weather protection
Easy to install
Fits dogs to

200+

lbs.
Lifetime Warranty includes chewing
Made in the USA
Big Dog Door™
Premium Pet Door
$138
plus S&H
Secure Shopping
When you purchase a pet door from Gun Dog House Door® Co. you get service direct from the manufacturer. The best direct customer service in the business! The dog doors are always in stock!
Also Available!
The free-swinging
Easy Big Dog Door™
fits dogs to 200+ lbs.
See The Dog Door In Action!
Adults & Puppies
Videos and Articles on Kennel Design and Dog Training.
Pet Door Installation Instructions
with Training Tips.
News, Features and More! Come Visit.
Google Search
Please Google "dog door" or "pet door" and compare price, quality, & service!
Thank You, Lance & Marcie

Better Dog Doors & Pet Doors


1-800-789-0203

• 701-354-7700 • Fax 701-354-0117

13835 34th St NW • Bismarck, ND 58503

International 701-354-7700

Copyright © 1992-2018 Gun Dog House Door® Inc.